Sparkling Tea - Premium Non-Alcoholic Drinks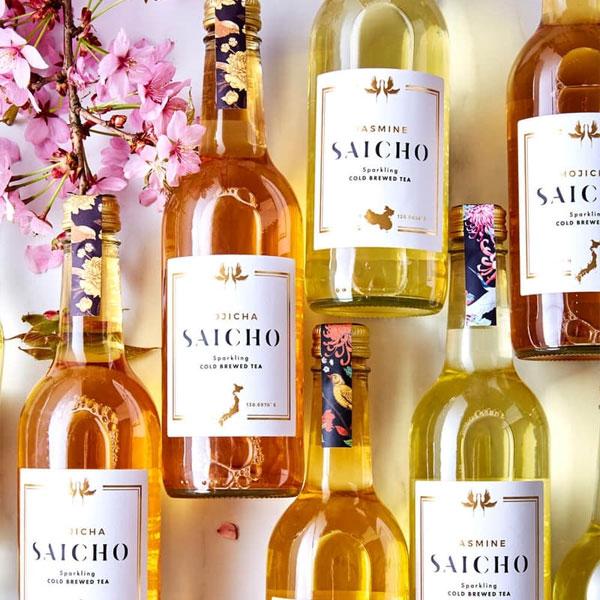 Offering a complex and refreshing alternative to alcoholic drinks, sparkling teas are a new and versatile addition to the non-alcoholic drinks market, emerging this year as a major trend.
Cold-brewed sparkling tea is now gaining the recognition it deserves for its delicacy and complexity. It's also gaining huge ground in the non-alcoholic drinks sector.
Sparkling tea flavours vary from floral to fruity or nutty to smoky. It's why they have excellent potential to create perfect pairings with food.
‍
Sparkling tea is the perfect non-alcoholic party drink
Designed to be served chilled in a champagne flute or coupe, Saicho sparkling teas are the ideal alternative to champagne or prosecco.
They are also great for luxurious, but light lunches, paired with dinners, or as the perfect accompaniment to afternoon tea.
And as a delicate addition to cocktails and mocktails; with so much scope for creativity, tea spritzes and other inventive mixes are sure to be the next big thing.
‍
 

Jasmine sparkling tea

Our Jasmine sparkling tea is a refreshing, non-alcoholic aperitif with beautifully floral notes of fresh green apples, lychee, elderflower and, of course, jasmine.

A touch of sweetness and the slightly chewy tannins make it a great alternative to Moscato d'Asti to accompany desserts like peach melba, elderflower jellies or panna cotta.

Jasmine's light and refreshing bubbles also makes it a fantastic aperitif. It can also create wonderfully delicious cocktails such as a sparkling strawberry twist on the classic Bellini.
‍
 

Darjeeling sparkling tea

Our summer flush Darjeeling has notes of peach blossom, mandarin, ginger and wood spice, making it the perfect pairing for grilled pork.

The slight bitterness and gentle, dry tannins make it incredibly food-friendly and is an ideal accompaniment to grilled pork or a hearty lasagne.
‍
‍
 

Hojicha sparkling tea

Hojicha, a roasted green tea from Japan, has a uniquely savoury flavour making it the ideal non-alcoholic drink for pairing with steak or oxtail soup.

The deep umami characteristics of the tea also make for a great pairing with mushroom risotto, while the seaweed/nori notes go well with sushi.

The smokiness of the Hojicha also pairs perfectly with charcuterie.
‍
The refreshing alternative to alcohol
Sparkling tea is the perfect alternative to alcoholic drinks for a party or for pairing with your favourite foods. Browse our Saicho sparkling tea here.